PM: Memorial Box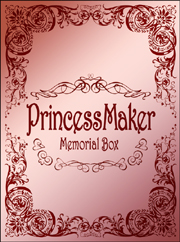 "Princess Maker Memorial Box"
it's a real gem for every PM fan. It's a collection of all PC Princess Maker game ever released (with the refined versions of two first games). And so, Memorial Box includes:
Princess Maker 1: Refine
Princess Maker 2: Refine
Princess Maker 3: Fairy Tales Come True
Princess Maker 4
Princess Maker 5
It's worth noticing that "Princess Maker 3" in this set is fully compatible with Windows XP/ Vista (previous version worked best with Windows 95).

"Princess Maker Memorial Box" includes games for PC. This set arrived on gamestores' shelves on March the 3rd 2007.
System requrements:
OS: Windows XP or Vista (remember about East Asian language support!)
Processor: Pentium 4 2.0 GHz
RAM: 512 MB
HDD: 5 GB
Video Card: 64 mb
Sound card Directx 9.0 compatible
Other: DVD-rom, mouse, keyboard
This set of games was created and released by Gainax and Cyberfront.
"Princess Maker Memorial Box" includes not only games but also a guidebook and a handbook written by fans:
Price:
Princess Maker Memorial Box" is, unfortunately, very expensive. It cost approximately 15.000 Yen (something like 196 dollars).